Links
House Cup
Membership Tab
THON Standings
Current Totals
Red Cross
http://www.redcross.org
Local Chapter
http://centre.redcross.org
Give Life
http://www.givelife.org
Penn State
http://www.psu.edu
PSU Volunteers
http://volunteer.psu.edu
Red Cross Store
http://www.redcrossstore.org
Goals
---
February Goal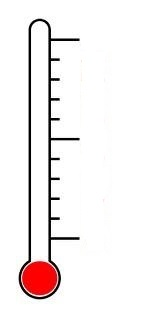 Goal: 1055
Current Total: 256
Yearly Goal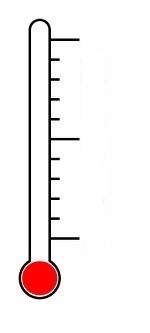 Goal: 6645
Current Total: 5484
Facebook
Like us on Facebook!
Twitter
Tweets by @psuredcross
What is THON?
---
THON, short for Penn State Dance Marathon, is a student-run philanthropy that culminates each February in a 46 hour no sitting and no sleeping dance marathon. The efforts of more than 15,000 student volunteers aid The Four Diamonds Fund at Penn State Hershey Medical Center. The fund specifically supports pediatric cancer patients and their families as well as researchers and staff members of The Four Diamonds Fund.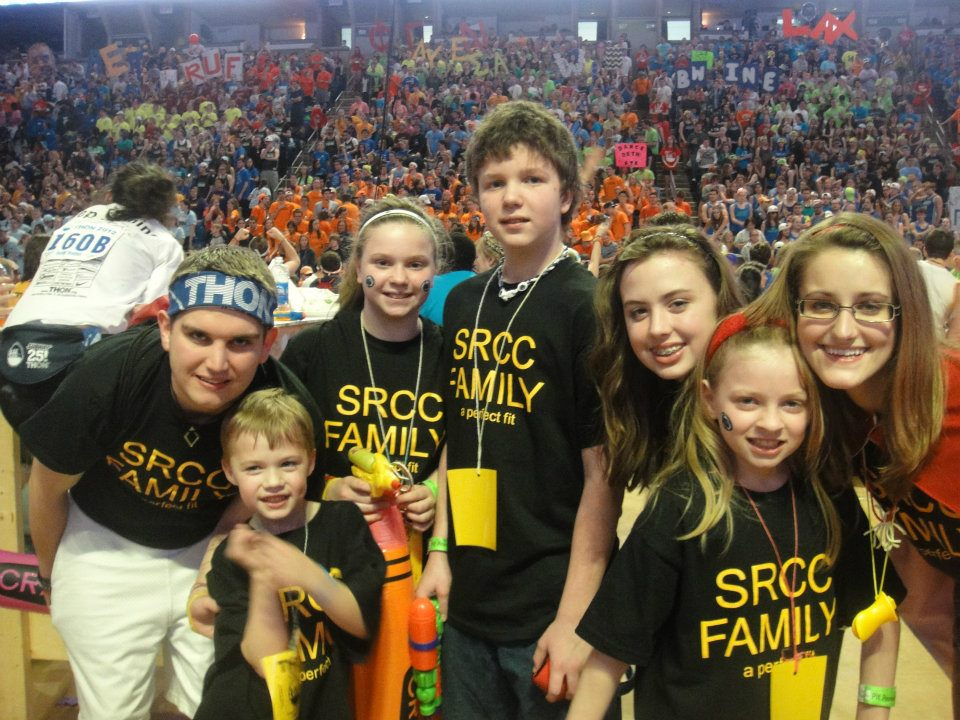 SRCC Four Diamonds Children and THON Chairs at THON 2012 (from left to right Mark McCuen, Fisher Heck, Ronnie Angus, Gabe Angus, Breanne Heck, Sydney Angus, and Erica Friel).
Dancer Selection
---
Are you a member of SRCC and would like to become one of our THON dancers this year? Check out our eligibility requirements. If you have any eligibility questions, please feel free to contact us through our THON email at [email protected]. Please note that the first essay is due November 20, so the sooner you check out the eligibility requirements, the sooner you can get started.
The Angus Family
---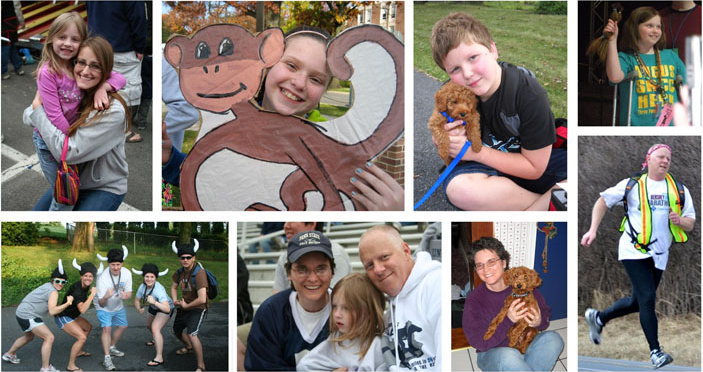 The Anguses, or Angi as we like to call them, have been paired with our organization since 2005. SRCC visits them often to celebrate birthdays, grill some world famous Angus burgers, raise money for THON, and occassionally to spar in a match of laser-tag! Gabe was diagnosed with Leukemia at the age of 4. He and his family overcame his illness together with the support of The Four Diamonds Fund and now celebrate each year by organizing a group of runners to travel 135 miles from the Hershey Medical Center through the harsh winter weather to deliver messages of thanks to the students dancing at THON. You can learn more about their inspirational run at http://thehopeexpress.org/ftk/.
The Heck Family
---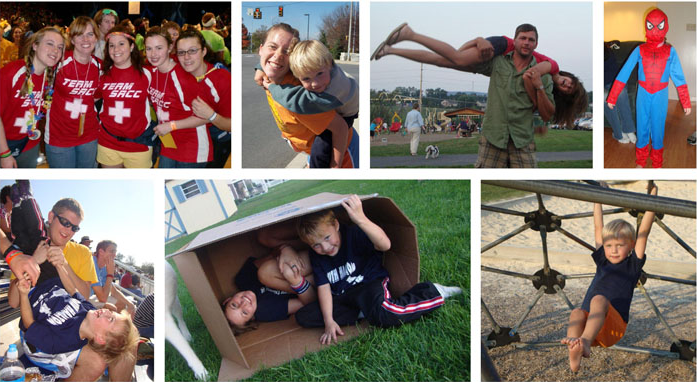 The Hecks are the newest edition to our SRCC family, being paired since Fall 2009. Fisher passed his two year cancer-free mark over the summer and just started Kindergarten this fall! Fisher loves coloring, spider-man, toy trucks, and duck duck goose. His older sister Breanne loves cheerleading and is a prospective Penn Stater. SRCC loves spending as much time with the Hecks as possible!
Embarrass the Officers
---
Embarrass the Officers is a fundraiser for THON that has been run annually at every meeting. We collect change and if the club raises over $50 then the officers are asked to do something embarrassing at the next meeting.
History
---
THON 1999: …One Step Closer
Chair: Sarah Marino
Dancers:Erin, Brandy
Total: $1,000.00
THON 2000: …Love Never Fails
Chair: Cassie Seraphin
Total: $3,000.00
THON 2001: …Within Reach
Chair:Anku Chandler
Total: $3,000.00
THON 2002: …With All Your Heart
Chair: Kim Kennedy
Dancers: Sam Batt, Amanda Heverling
Total: $4,418.57
THON 2003: Hope Surrounds Us
Chair: Sam Batt
Dancers: Leah, Pamela, Sam, Sharon
Total: $11,979.94
THON 2004: Always Believing
Chairs: Jenn Galgon
Dancers: Nikole Brake, Ashley Flannery, Travis Hoffmann, Christi Kolarcik
Total: $8,262.57
THON 2005: Embracing Dreams, Sharing Tomorrow
Chair: Travis Hoffmann
Dancers: Ellen Archibald, Wes Cronkite
Total:$5,000.00
THON 2006: Together We'll Prevail
Chair: Katie Lewis
Dancers: Kathy Anderson, Toni Gibson, Schweighauser, Rachel Walla
Total: $17,170.70
THON 2007: Many Hearts, One Home
Chair: Patty Alonso
Dancers: Nicole Quirk, Maggie Gordan
Total: $15,232.60
THON 2008: Hope Finds A Way
Chair: Emily Ritter
Dancers: Jessica Havern, Emily Ritter, Jenn Rachel Rodgers, Jennifer Wilson-Dammous
Total: $7,300.00
THON 2009: Dream Forward
Chair: Jim Harvey
Dancers: Julie Agee, Monique D'Entremont, Kari Haffelfinger, Meryl Surks
Total: $31,803.35
THON 2010: Love Belongs Here
Chair: Jim Harvey
Dancers: Tory Miksiewicz, Kathleen Regan, Rino Sato, Alexander Toner
Total: $53,663.41
THON 2011: Together Without Limits
Chairs: Erica Friel, Mark McCuen
Dancers: Mike Jen, Caroline Pember, Christine Theberge, Darla Zecchin
Total: $50,265.29
THON 2012: Brighten Every Journey
Chairs: Mark McCuen, Erica Friel, Ronny Wilson, Pattie Weir
Dancers: Mark McCuen, Erica Friel, Ronny Wilson, Stephen Kalasky
Total: $37,482.37
THON 2013: Inspire Tomorrow's Miracles
Chairs: Pattie Weir, Joy Urban, Annie Evans, Shannon Coyle
Dancers: Pattie Weir, Melissa Hubley, Divya Ghorpade, Greg Lynn
Total: $27,885.67
THON 2014: Redefine the Possibilities
Chairs: Joy Urban, Shannon Coyle, Annie Evans
Dancers: Joy Urban, Emma Lamberton
Total: $31,043.23
THON ListServ
---
Interested in hearing about our THON happenings? Subscribe to our listserv to hear what's going on with SRCC THON.
To Subscribe: Send a BLANK e-mail message [leave the subject and body empty] to [email protected]
To Unsubscribe: Send a BLANK e-mail message [leave the subject and body empty] to [email protected]
Links
---
| | |
| --- | --- |
| For more information about THON go to: | http://www.thon.org |
| For more information about The Four Diamonds Fund go to: | http://pennstatehershey.org/web/fourdiamonds/home |
| For more information about Hope Express go to: | http://thehopeexpress.org/ftk/ |
| To donate to THON go to: | https://secure.imodules.com/s/1218/thon/thon.aspx?sid=1218&gid;=1&pgid;=671&cid;=2344 |
| Any questions about SRCC THON should be directed to: | [email protected] |